With the government's decision to make the 3Waters reform mandatory, the public consultation promised for next year seems redundant.  It may be that New Zealanders will only get a definitive  say on this major change to provision of drinking water, stormwater and sewerage services at the 2023 general election.
Local Government Minister Nanaia Mahuta is preparing to introduce legislation setting up four new publicly-owned water service entities, each serving roughly 1.2 million people. National and ACT have both pledged to repeal any such legislation.
There is a select committee process early next year – another chance for opponents to fire broadsides at the claimed savings from moving to these four mega water entities and the loss of direct local control for residents via their territorial authority. Minister Mahuta has agreed to set up a working group comprised of Council and iwi representatives to try and shape a better model of governance and accountability.
[The governance proposal as it stands is convoluted. Lower Hutt and 21 other Councils that would become part of Entity 'C' get to nominate six representatives to a representation group. A similar number of Iwi/Mana Whenua groups from the top of the South Island and as far north as Gisborne, nominate another six members. That board appoints a selection panel, which in turn appoints a board of experts to run Entity C. So for Hutt ratepayers via their council, that's a 1/44th say on the board that appoints another board.]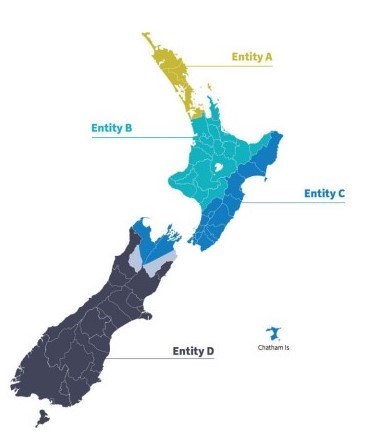 As it panned out, Hutt City Council never got the chance to 'opt in' or 'opt out'. Our clear legal advice was that we could not make such a major decision without full consultation with residents. The consultation never happened because the government made the changes mandatory anyway.
I'm very aware a large number of local residents are deeply concerned, even angry, about the idea of $500 million of local pipe, reservoir and treatment plant resources built up by generations of Hutt ratepayers being handed over to this new entity, even if the entity remains in public ownership. It should be noted it is very, very unlikely any of these entities or their assets could be sold off into private hands. It would require a 75% majority vote by the representation board AND a 75% majority vote in favour by residents across the area served.
It's also worth saying that although the Hutt's water infrastructure has a book value of half a billion dollars, is it realistic to describe these as assets? Assets generally are things that have a value when sold. There is no intention to sell these assets. Given the huge cost to upgrade and maintain those pipes and reservoirs, is it just as sound to describe them as liabilities we have to have to deliver essential services?
The government and three sets of reviewers put the case that economies of scale, ability to attract and retain expert staff and other factors will deliver significant savings as we stare down an future investment requirement nationwide of up to $185 billion.
The ballpark estimate of the cost of water services to the average Lower Hutt household with the reform is $1260 a year by 2051; without the centralization of services, we'll each pay nearly double at $2,380. However, another financial reviewer (Castalia) has hotly disputed this quantum of savings. HCC officers' advice is that while we could argue about the quantum of savings from reform, the general thrust of scale efficiencies are sound.
Whoever you believe – make no mistake, there are VERY considerable 3Waters costs in front of Lower Hutt, with or without reform.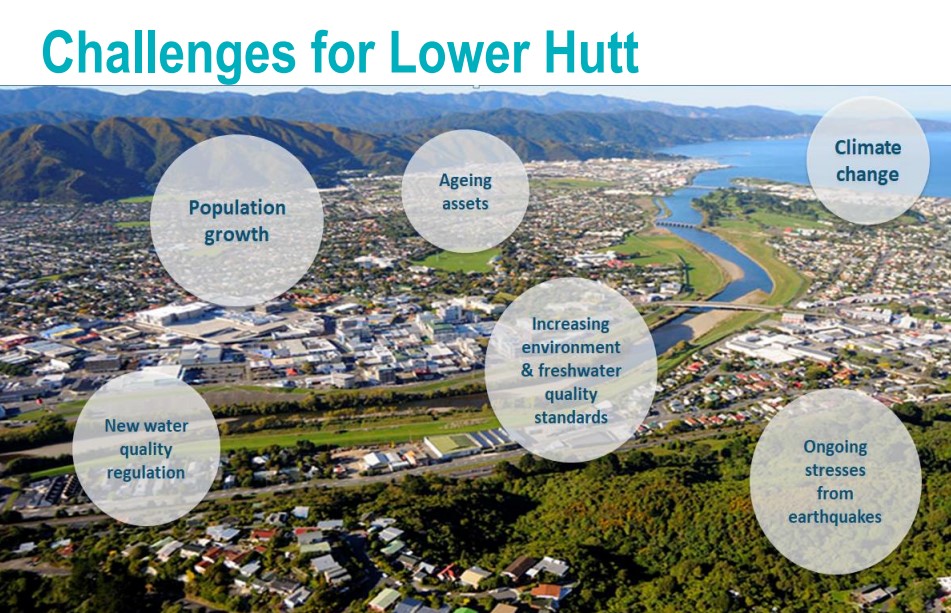 60% of Lower Hutt's water infrastructure needs to be replaced in the next 30 years.
Our Long-Term Plan budgets $587 million to double water infrastructure investment between now and 2031. That's a major reason behind the 5.9% rates increase this year, and the proposed rates increases of 5.9% next year and 7.2% the year after.
Pipe renewals and other related work is estimated to cost $2.1 billion between now and 2051, and importantly, that doesn't factor in city growth (all the extra housing we're seeing being built).
That's also not counting meeting much tougher new government rules on discharge of contaminants into waterways during times of high rainfall (and the large fines liable for breaches).
The water and stormwater infrastructure in Wainuiomata, where so much housing growth is happening, is at capacity now. CBD stormwater is also at capacity now.
While we expected to gather up to $37 million in development fees from developers of new housing in the next 10 years as a contribution to the 'growth component' of infrastructure, actual costs may be be many times that.
Hutt City Council's debt (with Riverlink, and if the new Cross Valley Connector road gets sign-off) is tipped to nudge $600 million by 2029 – still well within our self-imposed prudent debt to revenue limit of 250%, but an eye-watering amount of money.
The new water entity would assume all of those responsibilities going forward, and is said to have the asset base and separate balance sheets to enable debt to revenue leverage of 645%.
But the big questions remain:
Where would Hutt's priorities sit within that much larger entity?
And while local rates bills should be significantly smaller given we'll be turning over all those responsibilities, $109 million of existing water infrastructure-related debt (but also $71m of annual revenue), what sort of bills can local people expect to get in the future from Entity C?